Pesticides >> Insecticides >> Endosulfan
Endosulfan 35%EC
Insecticide, acaricide
cyclodiene organochlorine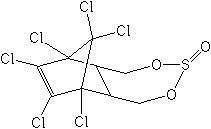 NOMENCLATURE
Common name endosulfan (BSO, E-ISO, (m) F-ISO, ANSI, ESA); thiodan (Iran, USSR); benzoepin (JMAF); no name (Italy)
IUPAC name (1,4,5,6,7,7-hexachloro-8,9,10-trinorborn-5-en-2,3-ylenebismethylene) sulfite; 6,7,8,9,10,10-hexachloro-1,5,5a,6,9,9a-hexahydro-6,9-methano-2,4,3-benzodioxathiepine 3-oxide
Chemical Abstracts name 6,7,8,9,10,10-hexachloro-1,5,5a,6,9,9a-hexahydro-6,9-methano-2,4,3-benzodioxathiepine 3-oxide
CAS RN [115-29-7] endosulfan; [959-98-8] formerly [33213-66-0], alpha-endosulfan; [33213-65-9] formerly [891-86-1] and [19670-15-6], beta-endosulfan EEC no. 204-079-4 Development codes Hoe 02 671 (Hoechst); FMC 5462 Official codes OMS 204 (a); OMS 205 (b); OMS 570; ENT 23979
APPLICATIONS
Biochemistry Antagonist of the GABA receptor-chloride channel complex. Mode of action Non-systemic insecticide and acaricide with contact and stomach action. Uses Control of sucking, chewing, and boring insects and mites on a very wide range of crops, including fruit (including citrus), vines (0.1-0.2%), olives, vegetables including potatoes (0.1-0.2%), ornamentals, cucurbits, cotton (1.5-2.5 l/ha), tea (1.0-2.0 l/ha), coffee (1.5-2.0 l/ha), rice (1.5-2.0 l/ha), cereals (1.0-2.0 l/ha), maize and sorghum (1.5-2.5 l/ha), oilseed crops (1.0-2.0 l/ha), hops, hazels, sugar cane (1.5-2.5 l/ha), tobacco (0.8-1.5 l/ha), alfalfa, mushrooms, forestry, glasshouse crops, etc. Also controls tsetse flies. Phytotoxicity Glasshouse geraniums and chrysanthemums, alfalfa, and lima beans may be injured. Formulation types DP; EC; GR; UL; SC; WP; Powder concentrate. Compatibility Incompatible with strongly alkaline materials. Selected tradenames: 'Fan' (FMC); 'Phaser' (Aventis); 'Thiodan' (Aventis); 'Afidanil' (Efthymiadis); 'Cekulfan' (Cequisa); 'Endocel' (Excel); 'Endodhan' (Dhanuka); 'Endosol' (Aimco); 'Endostar' (Shaw Wallace); 'Hildan' (Hindustan); 'Lucasulfan' (Lucava); 'Speed' (Nagarjuna Agrichem); 'Thionex' (Makhteshim-Agan); mixtures: 'Tomahawk' (+ ethion) (Calliope)
OTHER TRADENAMES
'Golden Leaf Tobacco Spray' (FMC); 'Dofan' (Vapco); 'Endo Crop' (Crop Health); 'Fantom' (Agricultura Nacional); 'Master' (Chemiplant); 'Mortero' (CAS); 'Parrysulfan' (Parry); 'R Sulfa' (Ramcides); 'Sulfanex' (AgroSan); 'Thionate' (Crystal); 'Trysulphone' (BEC) mixtures: 'Decisdan' (+ deltamethrin) (Aventis); 'Methofan' (+ methomyl) (Makhteshim-Agan); 'Metofan forte' (+ methomyl) (Aragonesas); 'Pull Up' (+ chlorpyrifos) (Probelte); 'Sulfanex-Methyl' (+ parathion-methyl) (AgroSan) Discontinued names: 'Beosit' * (Staehler); 'Laipuran' * (Lainco); 'Rasayansulfan' * (Krishi Rasayan) mixtures: 'Serk' * (+ thiometon) (Novartis)
ANALYSIS
Product analysis by i.r. spectrometry (CIPAC Handbook, 1970, 1, 360) or by glc (ibid., 1985, 1C, 2110; AOAC Methods, 1995, 983.08). Residues determined by glc with MCD (ibid., 976.23; Pestic. Anal. Man., 1979, 201-A, 201-G, 201-I; 405; A. Ambrus et al., J. Assoc. Off. Anal. Chem., 1981, 64, 773; Man. Pestic. Residue Anal., 1987, I, 5, 6, S19; Anal. Methods Residues Pestic., 1988, Part I, M1, M12). In drinking water by gc with ECD (AOAC Methods, 1995, 990.06). Further methods available on request from Aventis.
MAMMALIAN TOXICOLOGY
Reviews FAO/WHO 83, 85 (see part 2 of the Bibliography). Oral Acute oral LD50 for rats 70 mg (in aqueous suspension)/kg, 110 mg tech. (in oil)/kg, 76 mg alpha- isomer/kg, 240 g beta- isomer/kg; for dogs 77 mg tech./kg. Skin and eye Acute percutaneous LD50 for rabbits 359 mg (in oil)/kg; for male rats >4000, female rats 500 mg/kg. Inhalation LC50 (4 h) for male rats 0.0345, female rats 0.0126 mg/l. NOEL (2 y) for rats 15 ppm diet; (1 y) for dogs 10 ppm diet. ADI (JMPR) 0.006 mg/kg b.w. [1998]. Toxicity class WHO (a.i.) II; EPA (formulation) I (tech.) EC hazard T; R24/25| Xi; R36| N; R50, R53
:ECOTOXICOLOGY
Birds Acute oral LD50 for mallard ducks 205-245, ring-necked pheasants 620-1000 mg/kg. Fish Highly toxic (LC50 (96 h) for golden orfe 0.002 mg/l water) but, in practical use, should be harmless to wildlife. Daphnia LC50 (48 h) 75-750 mg/l. Algae EC50 (72 h) for green algae >0.56 mg/l. Bees Not toxic to bees under field conditions at an application rate of 1.6 l/ha (560 g endosulfan/ha). Worms NOEC 0.1 mg/kg dry weight.