Pesticides >> Insecticides >> Acetamiprid
Acetamiprid
Acetamiprid 96%TC
Acetamiprid 70%WP
Acetamiprid 20%SP
Acetamiprid 20%WG

Insecticide
neonicotinoid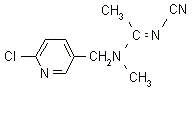 Acetamiprid NOMENCLATURE
Common name acetamiprid (pa ISO)
IUPAC name (E)-N1-[(6-chloro-3-pyridyl)methyl]-N2-cyano-N1-methylacetamidine
Chemical Abstracts name (E)-N-[(6-chloro-3-pyridinyl)methyl]-N'-cyano-N-methylethanimidamide
CAS RN [135410-20-7] Development codes NI-25 (Nippon Soda)
Acetamiprid APPLICATIONS
Biochemistry Agonist of the nicotinic acetylcholine receptor, affecting the synapses in the insect central nervous system. Mode of action Systemic insecticide with translaminar activity and with contact and stomach action. Uses Control of Hemiptera, especially aphids, Thysanoptera and Lepidoptera, by soil and foliar application, on a wide range of crops, especially vegetables, fruit and tea. Applied at 75-300 g/ha on vegetables, 100-700 g/ha in orchards. Formulation types FU; GR; EC; WP. Selected tradenames: 'Mospilan' (Nippon Soda)
Acetamiprid OTHER TRADENAMES
'Assail' (Aventis); 'Rescate' (Nippon Soda, Aventis); 'Saurus' (Nippon Soda, Aventis)
Acetamiprid ANALYSIS
Tech. product by hplc; residues by gc.
MAMMALIAN TOXICOLOGY
Oral Acute oral LD50 for male rats 217, female rats 146, male mice 198, female mice 184 mg/kg. Skin and eye Acute percutaneous LD50 for male and female rats >2000 mg/kg. Non-irritating to skin and eyes (rabbits); not a skin sensitiser (guinea pigs). Inhalation LC50 (4 h) for male and female rats >0.29 mg/l. NOEL (2 y) for rats 7.1 mg/kg b.w.; (18 mo) for mice 20.3 mg/kg b.w.; (1 y) for dogs 20 mg/kg b.w. Other Negative in the Ames test.
ECOTOXICOLOGY
Birds LD50 for bobwhite quail 180 mg/kg. LC50 for bobwhite quail >5000 ppm. Fish LC50 (24-96 h) for carp >100 mg/l. Daphnia LC50 (24 h) >200 mg/l. Algae EC50 (72 h) >98.3 mg/l; NOEC (72 h) 98.3 mg/l.
Acetamiprid ENVIRONMENTAL FATE
Plants Slowly degraded on or in plants, forming five identified metabolites (H. Saito et al., Proc. 9th IUPAC Int. Congr. Pestic. Chem., London, 1998, 2, 5A-010). Soil/Environment DT50 in clay loam 1 d; in light clay 1-2 d. DT50 for total residues 15-30 d.