Pesticides >> Insecticides >> Carbofuran
Carbofuran 50%SC
Insecticide, nematicide
carbamate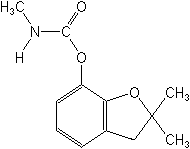 NOMENCLATURE
Common name carbofuran (BSI, E-ISO, (m) F-ISO, ANSI, ESA)
IUPAC name 2,3-dihydro-2,2-dimethylbenzofuran-7-yl methylcarbamate
Chemical Abstracts name 2,3-dihydro-2,2-dimethyl-7-benzofuranyl methylcarbamate
CAS RN [1563-66-2]; (carbofuran phenol [1563-38-8]; 3-ketocarbofuran phenol [17781-16-7]) EEC no. 216-353-0 Development codes FMC 10 242; BAY 70 143 (Bayer)
Carbofuran APPLICATIONS
Biochemistry Cholinesterase inhibitor. Mode of action Systemic, with predominantly contact and stomach action. Uses Control of soil-dwelling and foliar-feeding insects (including wireworms, white grubs, millipedes, symphylids, frit flies, bean seed flies, root flies, flea beetles, weevils, sciarid flies, aphids, thrips, etc.) and nematodes in vegetables, ornamentals, beet, maize, sorghum, sunflowers, oilseed rape, potatoes, alfalfa, peanuts, soya beans, sugar cane, rice, cotton, coffee, cucurbits, tobacco, lavender, citrus, vines, strawberries, bananas, mushrooms, and other crops. Formulation types FS; GR; SC; WP. Compatibility Incompatible with alkaline materials. Selected tradenames: 'Curaterr' (Bayer); 'Furadan' (FMC); 'Agrofuran' (Sanonda); 'Carbodan' (Makhteshim-Agan); 'Carbosip' (Sipcam); 'Cekufuran' (Cequisa); 'Chinufur' (Agro-Chemie); 'Furacarb' (Aimco); 'Fury' (Nagarjuna Agrichem); 'Terrafuran' (Sanachem)
Carbofuran OTHER TRADENAMES
'Curater' (Bayer); 'Yaltox' (Bayer); 'Candor' (Pesticides India); 'Funandan' (Shenzhen Jiangshan); 'Pilarfuran' (Pilarquim); 'Rampart' (Sipcam); 'Reider' (Agricultura Nacional); 'Tripart Nex' (Tripart)
Carbofuran ANALYSIS
Product analysis by hplc (CIPAC Handbook, 1988, D, 20; AOAC Methods, 1990, 986.10) or by i.r. spectrometry. Residues determined by glc (AOAC Methods, 1995, 975.40; Pestic. Anal. Man., 1979, II; Man. Pestic. Residue Anal., 1987, I, 6; Anal. Methods Residue Pestic., 1988, Part I, M13; R. F. Cooke, Anal. Methods Pestic. Plant Growth Regul., 1973, 7, 187; A. Ambrus et al., J. Assoc. Off. Anal. Chem., 1981, 64, 733) or by rplc (AOAC Methods, 1995, 985.23). Methods for determination of residues available from Bayer. For methods in drinking water, see AOAC Methods, 1995, 991.06 (includes its 3-hydroxy metabolite); for carbofuran phenol and 3-ketocarbofuran phenol, see also AOAC Methods, 1995, 992.14.
Carbofuran MAMMALIAN TOXICOLOGY
Reviews FAO/WHO 77, 79 (see part 2 of the Bibliography). Oral Acute oral LD50 for male and female rats c. 8, dogs 15, mice 14.4 mg/kg. Skin and eye Acute percutaneous LD50 (24 h) for male and female rats >2000 mg/kg; mildly irritating to skin and eyes (rabbits). Inhalation LC50 (4 h) for male and female rats c. 0.075 mg/l air (aerosol). NOEL (2 y) for rats and mice 20 mg/kg diet; (1 y) for dogs 10 mg/kg diet. ADI (JMPR) 0.002 mg/kg b.w. [1996]. Water GV 7 mg/l (based on ADI). Toxicity class WHO (a.i.) Ib; EPA (formulation) I ('Furadan 4F'), II ('Furadan G') EC hazard T+; R26/28| N; R50, R53
ECOTOXICOLOGY
Birds Acute oral LD50 for Japanese quail 2.5-5 mg/kg. LC50 for Japanese quail 60-240 mg (as GR5)/kg. Tech.: LC50 0.7-8 mg/kg, depending on species. Fish LC50 (96 h) for rainbow trout 22-29 mg (as GR5)/l, bluegill sunfish 1.75 mg (as GR3)/l, golden orfe 107-245 mg (as GR5)/l. Tech.: 7.3-362.5 mg/l, depending on species. Daphnia LC50 (48 h) 38.6 mg/l. Bees Toxic to bees (except for granular formulation).
ENVIRONMENTAL FATE
EHC 64 (WHO, 1986; a review of carbamate insecticides in general). Animals Carbofuran is metabolised by hydrolytic and oxidative mechanisms in the rat. At 24 hours after treatment, 72% of the dose was eliminated in the urine, 2% in the faeces, and about 43% of the administered dose was hydrolysed. Over 95% of the material excreted in the urine was in the form of conjugated metabolites. The major metabolite was conjugated 3-ketocarbofuran phenol, while conjugated 3-hydroxycarbofuran was the predominant carbamate metabolite. Both metabolites were also present in the free form. Metabolism of carbamate insecticides is reviewed (M. Cool & C. K. Jankowski in "Insecticides"). Plants Carbofuran is quickly metabolised into 3-hydroxycarbofuran and ketocarbofuran. Soil/Environment DT50 in soil c. 30-60 d. Most important metabolite is CO2 formed by microbiological degradation of the phenol compounds. Koc 22.