Products >> Fungicides >> Prothioconazole
Prothioconazole 95%TC
Prothioconazole 480G/LSC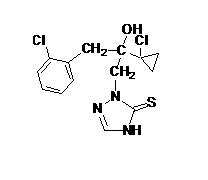 Prothioconazole NOMENCLATURE
Common name prothioconazole (BSI, pa ISO)
IUPAC name 2-[(2RS)-2-(1-chlorocyclopropyl)-3-(2-chlorophenyl)-2-hydroxypropyl]-2H-1,2,4-triazole-3(4H)-thione
Chemical Abstracts name 2-[2-(1-chlorocyclopropyl)-3-(2-chlorophenyl)-2-hydroxypropyl]-1,2-dihydro-3H-1,2,4-triazole-3-thione
CAS RN [178928-70-6] Development codes JAU 6476; AMS 21619
Prothioconazole PHYSICAL CHEMISTRY
Mol. wt. 344.3 M.f. C14H15Cl2N3OS Form White to light beige crystalline powder. M.p. 139.1-144.5 °C V.p. <<4  10-4 mPa (20 °C) KOW logP = 4.05 (unbuffered, 20 °C) Henry <<3  10-5 Pa m3 mol-1 Solubility In water 0.3 g/l (20 °C). pKa 6.9
Prothioconazole COMMERCIALISATION
History Reported by A. Mauler-Machnik et al., Proc. BCPC Conf. - Pests Dis., 2002, 1, 389.
Prothioconazole APPLICATIONS
Biochemistry Steroid demethylation (ergosterol biosynthesis) inhibitor. Mode of action Systemic fungicide with protective, curative, eradicative and long-lasting activity. Uses Under development for control of diseases such as eyespot (Pseudocercosporella herpotrichoides), Fusarium ear blight (Fusarium spp., Microdochium nivale), leaf blotch diseases (Septoria tritici, Leptosphaeria nodorum, Pyrenophora spp, Rhynchosporium secalis, etc), rust (Puccinia spp.), and powdery mildew (Blumeria graminis) by foliar application in wheat, barley and other crops. As a seed dressing, for control of Ustilago spp., Tilletia spp., Fusarium spp. and Microdochium nivale. Selected products: mixtures: 'Bariton' (+ fluoxastrobin) (Bayer CropScience); 'Fandango' (+ fluoxastrobin) (Bayer CropScience); 'Scenic' (+ tebuconazole+ fluoxastrobin) (Bayer CropScience)
OTHER PRODUCTS
'Proline' (Bayer CropScience)
Prothioconazole MAMMALIAN TOXICOLOGY
Oral Acute oral LD50 for rats >6200 mg/kg. Skin and eye Acute dermal LD50 for rats >2000 mg/kg. Not an eye irritant. Not a skin sensitiser. Inhalation LC50 for rats >4990 mg/m3 air. Other No genotoxic effects; no embryotoxic or teratogenic potential.
Prothioconazole ECOTOXICOLOGY
Birds Acute oral LD50 for quail >2000 mg/kg. Fish LC50 (96 h) for rainbow trout 1.83 mg/l. Daphnia Acute LC50 (48 h) 1.30 mg/l. Algae Chronic EC50 (72 h) 2.18 mg/l. Bees Not harmful. Worms LC50 (14 d) for earthworms >1000 mg/kg dry soil. Other beneficial spp. No effects on non-target arthropods or soil organisms.
Prothioconazole ENVIRONMENTAL FATE
Soil/Environment Prothioconazole and its metabolites show low potential for leaching or accumulation.