Pesticides >> Insecticides >> Fipronil
Fipronil
Fipronil 95%TC
Fipronil 80%WG
Fipronil 80%WP
Fipronil 5%SC
Fipronil 5%EC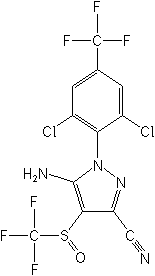 Fipronil, the newest active ingredient on the US market, is now available in Maxforce FC bait stations. Fipronil offers the pest control industry a new chemistry with a unique mode of action.
Maxforce used this new chemistry to create bait stations that offer both long-term control and faster results than demonstrated by other ant and cockroach bait products.
Fipronil is a highly active, broad-spectrum insecticide from the phenyl pyrazole family.
Scientists discovered fipronil and identified its insecticidal properties in 1987.
Used at low doses, the active ingredient is highly effective against a broad range of insect pests, including ants and roaches.