Products >> Herbicides >> Propyzamide
Propyzamide
Propyzamide 95%TC
Propyzamide 40%SC
Herbicide
FRAC 2; dicarboximide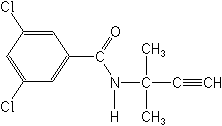 NOMENCLATURE
Common name procymidone (BSI, E-ISO, (f) F-ISO, JMAF)
IUPAC name N-(3,5-dichlorophenyl)-1,2-dimethylcyclopropane-1,2-dicarboximide
Chemical Abstracts name 3-(3,5-dichlorophenyl)-1,5-dimethyl-3-azabicyclo[3.1.0]hexane-2,4-dione
CAS RN [32809-16-8] Development codes S-7131 (Sumitomo)
Propyzamide APPLICATIONS
Biochemistry Inhibitor of triglyceride synthesis in fungi. Mode of action Systemic fungicide with protective and curative properties. Absorbed through the roots, with translocation to leaves and flowers. Uses Control of Botrytis, Sclerotinia, Monilia, and Helminthosporium spp. on fruit (including top fruit, strawberries and raspberries), vines, vegetables (including tomatoes, peas and beans), ornamentals, cereals, sunflowers, oilseed rape, soya beans, peanuts, tobacco, etc. Usually applied at 0.5-1.0 kg a.i./ha. Phytotoxicity Non-phytotoxic when used as directed. Not to be applied to cyclamen after the bud sprouting stage. Formulation types DP; HN; SC; SP; WG; WP. Compatibility Incompatible with alkaline materials. Selected tradenames: 'Sumilex' (Sumitomo); 'Sumisclex' (Sumitomo); 'Sideral' (Sipcam)
Propyzamide OTHER TRADENAMES
'Kimono' (Philagro); 'Prodone' (Agro Chemicals); 'Progress' (AgroSan); 'Prolex' (Vapco); 'Proroc' (Rocca) mixtures: 'Sumiblend' (+ diethofencarb) (Agros, Sumitomo)
Propyzamide ANALYSIS
Product analysis by glc (M. Horiba, Agric. Biol. Chem., 1982, 46, 1095). Residues determined by glc (Man. Pestic. Residue Anal., 1987, I, 6, S18, S19). Details available from Sumitomo Chemical Co.
Propyzamide MAMMALIAN TOXICOLOGY
Reviews FAO/WHO 56, 58 (see part 2 of the Bibliography). Oral Acute oral LD50 for male rats 6800, female rats 7700 mg/kg. Skin and eye Acute percutaneous LD50 for rats >2500 mg/kg. Non-irritating to skin and eyes (rabbits). Inhalation LC50 (4 h) for rats >1500 mg/m3. NOEL (90 d) for dogs 3000 mg/kg; (2 y) for male rats 1000, female rats 300 mg/kg. No mutagenic or carcinogenic effects. ADI (JMPR) 0.1 mg/kg b.w. [1989]. Toxicity class WHO (a.i.) III (Table 5)
ECOTOXICOLOGY
Fish LC50 (96 h) for bluegill sunfish 10.3, rainbow trout 7.2 mg/l. Bees Not toxic to bees.
ENVIRONMENTAL FATE
Animals In animals, rapidly and completely eliminated in the faeces and urine. Soil/Environment Persists in soil for c. 4-12 weeks, depending on humus content.